I read a post on the Harpeth Bike Club email list this evening and it was text about how to deal with an angry dog. I thought I recognized the formatting and the story. Yes, it was Ken Kifer's article on Coping with Dogs. It reminded me of Ken's website and other sites that inspired me when I first started cycling. I thought I'd share a few things about them both.
Ken Kifer had ridden an estimated 100,000 touring miles over his years of cycling in Scottsboro, AL. He was run down by a drunk driver in 2003 while riding his bike 6 miles from his home. If you want to know how to make your own pannier, find a place to camp, ride to work, and tons of other useful cycling information that many now take for granted. Ken was an authority that taught thousands. His website is still up and running, with the content the same as it was the day he was killed. I believe his site is one of the most important bicycling sites in the world.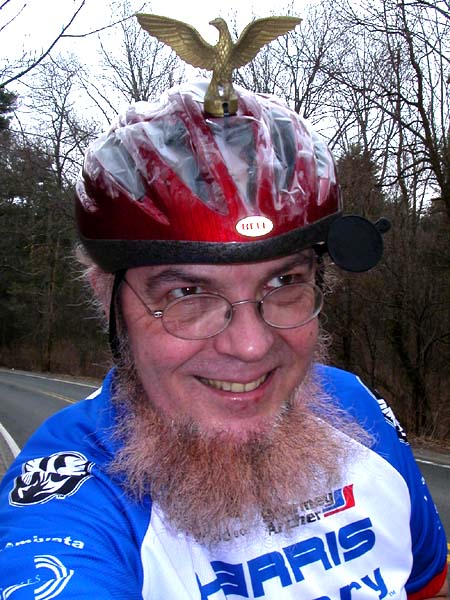 Sheldon Brown I would guess rode a bicycle almost every day of his life (excluding birth, and after he was diagnosed with multiple sclerosis.) I can picture Sheldon with his beard and a shit-eating grin, pedaling along on his single-speed fixed gear. He was survived by a brilliant wife and two kids – all over-achievers. Sheldon decided to be a professional bicycle mechanic / author / webmaster – all things bicycle, rather than some kind of physicist or whatever. He was the PhD of bicycling. The guy knew everything. He wrote for magazines over the years. He built the most comprehensive encyclopedia of bicycling anywhere. It was all free and available to the world. The world knew Sheldon for being an expert. But, he was humble and always willing to help. I posted a question on a newsgroup once – I think it was about drilling a drain hole in a bottom bracket. Well, Sheldon emailed me directly with an answer, with no thought of any reward other than to help someone out. This is Sheldon's reward – going down in bicycling history as one of the greats.
Sheldon, they'll find a cure for your MS some day, and I'll do my part in your honor.
Ken, we'll do everything we can to make the roads safer for you and everyone else out there.
What are you going to do?